30pcs Cooling System Leakage Tester and Vacuum-Type Coolant Refilling Kit
Specification:
Set for testing leaks in automotive cooling system and refill new coolant by creating a vacuum in cooling system
Includes 21 adapters (No. 3-23) for major car makes on the market
Special 90°connector for fitting on recovery tanks located deep in the engine compartment
Adapters and pump are made of light weight nylon 66
Connectors (blue and black) are for testing pressure caps
Description

For Electric & Regular Non-EV Vehicles.
Anxious No More about the surge of EV cars. EV cars will no longer have internal combustion engines, but the brake and cooling systems remain much the same as non-EV cars. KA-7230F is applicable on EV market!!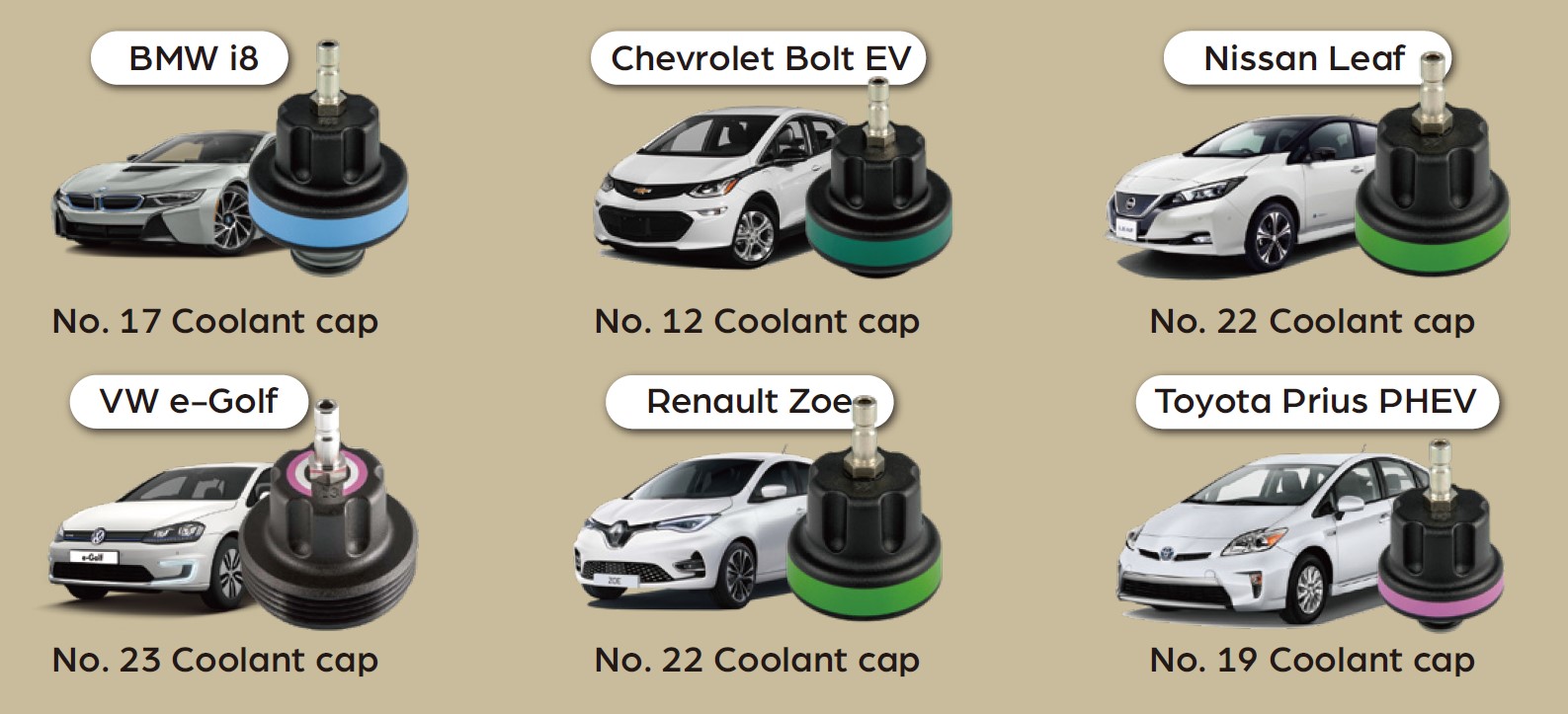 1. Contents:
1.1 Specification- Radiator Pressure Tester:
No.
Radiator Cap Application
0
Thermometer
1
Pressure Testing Pump with Gauge
2A
Connector R123/R124(Black color)
2B
Connector R123/R125(Blue color)
3
Mercedes Benz(w123, w126, w124, w201) GM(Buick) Jeep
4
Peugeot, Subaru, Chrysler, Acura, GM(Nova, Spectrum, Sprint), Mitsubishi, Nissan, Mazda, Toyota, Infiniti, GEO, Suzuki, Isuzu, Mercedes Benz)
5
Honda, Toyota, Suzuki, Mitsubishi, Chrysler, Acura, Lexus
6
Mercedes Benz (ML-class, W163, W164) GM(achiva, skylark, gramd am-1992-2002)
7
Volvo, Saab, Sterling, Citroen, Renault, Fiat, Alfa, Jeep, Mini
8
VW(Vento, T4, Passa-1996, Golf, Beetle, Sharan)
9
Audi(A4, A5, A6), BMW 345, VW(Passa-1997-2002), Porsche (Cayenne)
10
BMW (E46, E36, E34, E39, E38, E32, E90)
11
Audi, VW
12
Ford Mondeo, International, Land Rover, Opel, Ssangyong motor
13
Mercedes Benz(C-class, E-class, S-class, W140, W220, W124, W210, W211, W215, W216, W221, R230)
14
Ford Mondeo, Focus, C-MAX03
15
Mazda (M3)
16
Mercedes A-class (W168)
17
BMW E60, E63, E64, E65
18
VW Sharan 1.8T2.8
19
Toyota-Rav4, Previa
20
SAAB
21
Lincoln, Mercedes, Mercury, Oldsmobile, Pontiac, Satum, Buick, Cadillac, Chevrolet, GMC, Hummer, International, Jaguar, Land Rover
22
BMW, Mini 2008
23
Audi(A3, Q7), Porsche(Carrera), Skoda(Octavia), Seat(Toledo), VW
KA-7230K-QA 90° Connector For Radiator Adapters
1.2 Specification- Vacuum Purge & Refill Tool
KA-7230V Vacuum-type Cooling System Filler Kit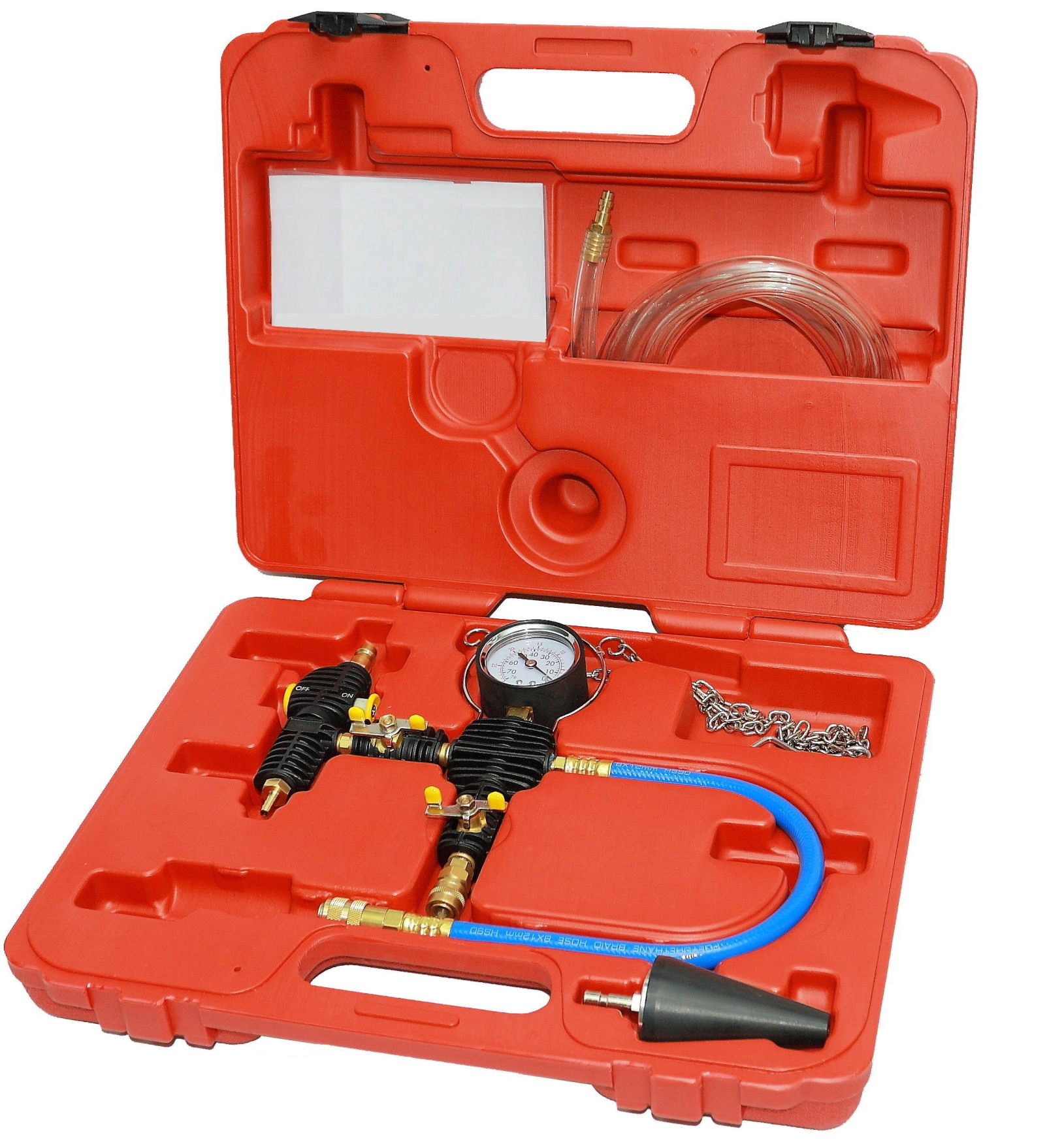 part
Advantage
Gauge
Could turn almost 180°
Radiator test adaptor
Two application provides more accurate fitting

universal cone radiator cap
specific radiator cap

on/off button
User select if the air goes
2. Instruction of radiator pressure tester
2.1 check leakage in radiator system with radiator caps (material-Nylon 66)
Step 1:
Remove the original radiator cap while the engine is cold.
Step 2:
Choose a test cap suiting the connection type onto the radiator. Screw the cap onto the radiator opening(Fig.1).
Step 3:
Connect the pump to the test cap through the quick coupling at the hose end.
Step 4:
Pump until pressure is approximately 10~15psi(Fig.2). If the gauge pointer perfectly efficient; if the gauge goes down and no fluid discharges can be located, check whether the engine head gasket is worn. (CAUTION: please avoid the pressure up to the 35psi)
Step 5:
Finally, release pressure through the button next to the quick coupling, and put away the device, after removing any fluid or dirt.
2.2 Check leakage on original radiator cap
Step 1:
Choose the #2A or #2B with available steel radiator.
Step 2:
Work the hand pump for few times, and then check the gauge reading for testing leakage. (Fig. 3)
Step 3:
Follow the pressure standard shows on original radiator cap.

3. Instruction of vacuum purge & refill tool
3.1 Purge the air in radiator
Step 1:
Please empty water from the radiator as clear as possible.
Step 2:
Raise the vehicle bonnet and hand the hook in available position.
Step 3:
Connect the universal radiator rubber adaptor provided or suitable radiator cap on radiator. (see fig. 4 & 5)
Step 4:
Ensure the switch No.3 is ON, No.7 is OFF. (see fig. 6)
Step 5:
Connect air line. Press button "ON" to allow the air goes (see fig. 7). Turn switch No.3 "OFF" when the pressure reaches 20-25 inHG (50-60cmHG) (see fig. 8). Then press button "OFF".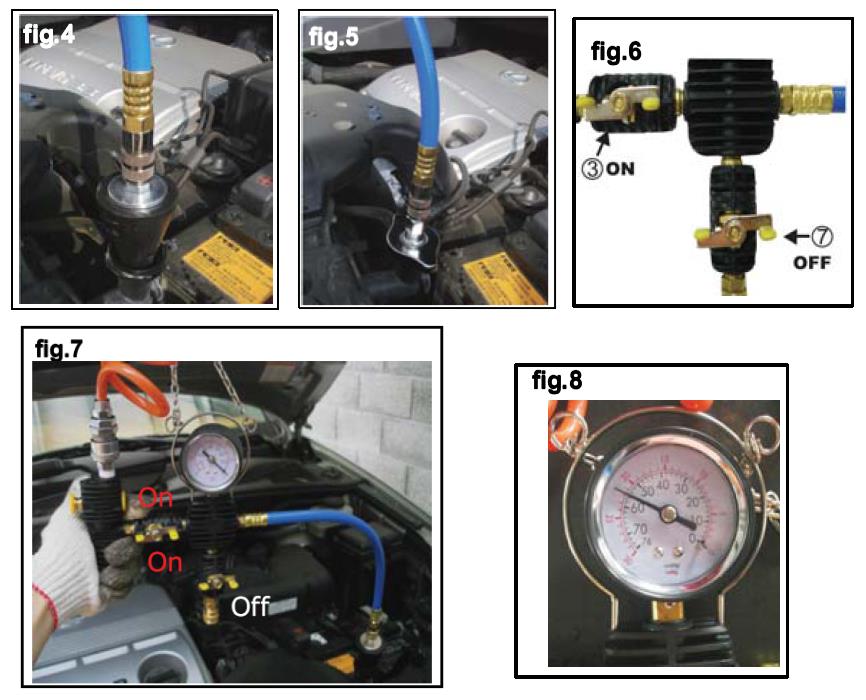 3.2 Refill the Coolant
Step 1:
Connect the coolant hose.
Step 2:
It is necessary to ensure the No.3 is "OFF" before refilling coolant, then ensure coolant hose is filled with coolant.
Step 3:
Turn No.7 "ON" to allow the coolant sucked into radiator. (see fig. 9)
Step 4:
The work is done when the needle points will be back to "zero."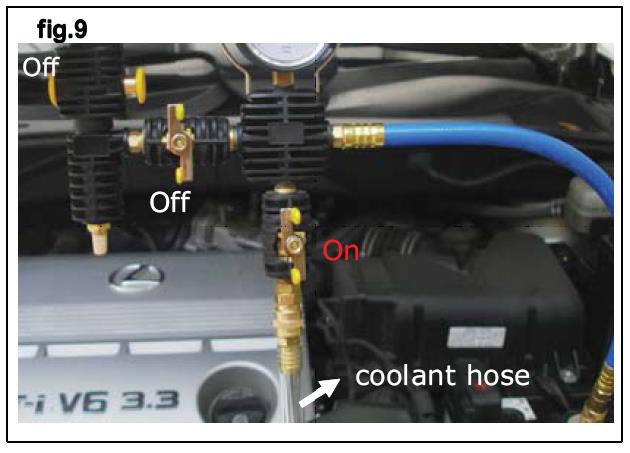 Note: Please check if the radiator is fully filled with coolant or not. If not, please fill the coolant by yourself until the radiator is full of coolant.