Masking Tape Edge Folding Dispenser for Auto Body Paint Works
New Products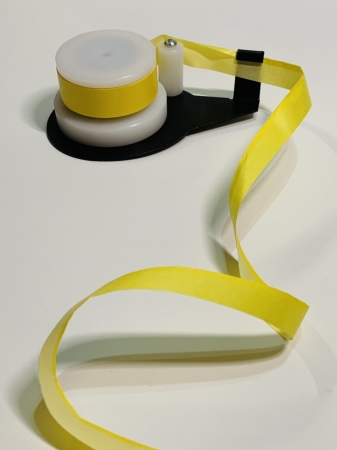 Specification:
☆ Patent: Taiwan ☆ Exclusive ☆
Masking Tape Edge Blending Folding Dispenser
Multi-Sizes:14mm/15mm/18mm/28mm/30mm Masking Tapes
Folds the edge in 2mm, 3mm, 4mm of Your Choice by folding a crease, thread through the opening and simply pull!
Delivering uniform and constant size of folding edge all the way from ground zero till ends, no matter how far or shot you pull.
The folded tape can follow curves or in circle nicely!!
The Folded tapes can be used on door, bonnet, fuel tank, hood and even in folds..etc
Features:
☆ One tool for 14mm/18mm/28mm/30mm Masking Tapes
☆ Gives Perfect Spray Transition
☆ Simple and Easy to Use
☆ Easy Maneuver
☆ Compact, Fit in your hands!
☆ Effective, Time and Labor Saver
☆ Eco-friendly
Description

Blending the painting nicely and perfectly.
With this KA-4588 Tape Edge Folder Dispenser, the tape edge is afloat slightly off the surface, and let the spray of paint to scatter and distribute along the tape line and gives the edge a smooth, feathered, blending, invisible transition results between sprayed and non-sprayed parts.
No more
sharp hard tape lines.
Therefore,
No further sanding
action is required.
With other regular masking tapes (without folded edges), the paint spray always build up on the edge of the tape creating a raised ridge or stair step bumps of paint build-ups after the pain dried.
When the regular tape is removed, there leaves a line of dried paint equal to tape thickness. The line is rough and sharp edge that required to be painstakingly sanded to smoothen the edge. It cost time and money.