Description

Automatic ignition propane
Powered pro-torch
The heavy duty KA-PT600A type provides the most powerful and stable propane flame available for demanding jobs where the highest BTU output is required.
Its precision orifice and controls offer the best there is in a high output propane tool.
The rotating hand protection plate makes using the KA-PT600A comfortable at most any angle.
KA-PT600A was designed with features to withstand the rigors of daily professional use.
Features:
Powerful wind-resistant flame.
Patented rotating hand protection plate for safe use at any angle.
High output flame for plumbing and other heavy duty jobs at home and in the workplace.
Use safely at any angle.
Specifications:
Dimension

H(w/o stand)

138mm (5.4")
L
100mm (3.9")
W
36mm (1.4")
Weight (when gas-filled)
280 g
Torch
1300℃ (2400℉)
Gas container capacity
60 ml
Operation capacity
(one gas filling)
120min.
At mid setting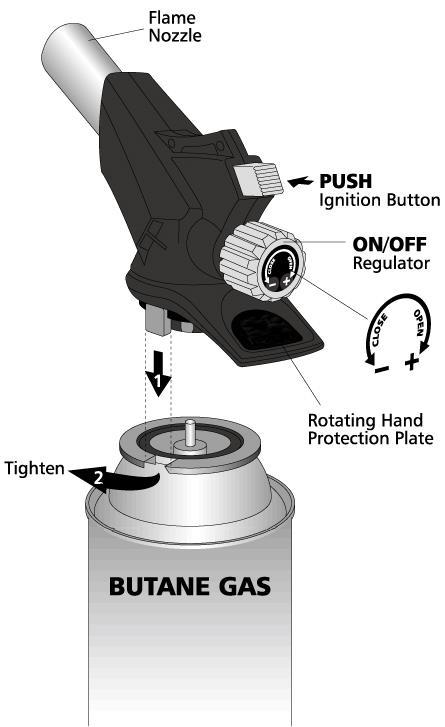 Applications:
Brazing, soldering, plumbing, BBQ grill charcoal starter, tool and die shops, automotive and truck repairs, industrial maintenance
Instructions:
Connect KA-PT600A to Butane Canister by pushing down and turning clockwise (right) until it stops. Be sure to align butane output valve with torch input valve.
To ignite, turn regulator knob counterclockwise (left) approximately 1/4 turn to start the gas flow and then push ignition Button. You may have to push ignition button more than once depending on conditions.
Rotate regulator knob to the LEFT for higher flame or to the RIGHT for lower flame.
If using the torch upside down, the flame may continue to burn for 10 seconds after turning off gas.
When replacing or disconnecting the butane canister, make sure that the regulator knob is tight in the OFF (right) position to avoid leaking.
Disconnect torch from cylinder when not in use.
Within 2 minutes of ignition, the flame may appear red. During this time the torch should only be used in an upright position. After 2 minutes of preheating the torch may be rotated to any angle.
Warning:
Only use the torch in a well-ventilated area.
Carefully follow the instructions and warnings and familiarize yourself with the torch before use. Failure to follow these instructions could cause property damage, personal injury or death.
Be aware that the tip of the torch can get extremely hot during or after use. Keep the torch away from children. Do not touch the torch nozzle after use.
Never connect to a fuel cylinder near any flammable materials, chemicals, liquids or gases.
Always point the torch flame away from the flammable objects or materials (such as walls, ceilings…etc.) Be especially careful around any gasoline and fuel products.
Never storage the value body with the combustible material.