Specification:
Outer body measure : (H) 110mm x (W) 65mm x (L) 25mm
Weight : 60 g
Fuel : RC-30 refill cartridge, disposable lighter or similar product except child proof's
Hours of use : Approx. 20 minutes per disposable lighter
Flame temperature : 1300℃ blue flame
Description

powered by normal disposable/ refillable lighter
Instant 1300℃/2400℉ micro torch flame
Auto-ignition
Pocket size
Piezo electronic ignition system-with safety lock.
Power by RC-30 refill cartridge or disposable gas lighter. Inexpensive and readily available.
Flame temperature up to 1300℃ (2500℉)
Wind-Proof flame and waterproof ignition make the Micro-Jet ideal for camping and outdoor use.
Compact size allows the unit to fit easily into any first aid/survival kit or tool kit.
How to use:
Remove the upper body, then place the disposable gas lighter into the main body. Then, slide the two halves of the body back together. (refer to the figure)
Switch the safety lock to the unlocked position. Then, slowly press the ignition button to the maximum point. Your MICRO-JET is now fired up and ready to use. (Note: if no flame appears, adjust the regulator on the disposable lighter and press the ignition button again.) As the gas in the lighter is consumed, the regulator will need to be adjusted periodically to ensure a proper flame.
When the ignition button is released, there will be a short delay before the flame is completely extinguished.
When the MICRO-JET is not use, remove the disposable gas lighter. (Or refill cartridge)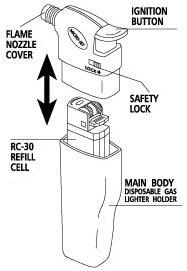 Warnings:
Read instructions before use.
Only use our RC-30 refill cartridge, disposable gas lighter or similar product.
Do not ignite or use near an open flame, heater, furnace, or combustible material.
Do not touch the nozzle cover during use, or before sufficient time has passed for cooling.
Always be sure the unit is cool, and the lighter removed, before storing.
Store properly when not in use, switch the safety lock to the locked position, keep in a dry place, out of the reach of children.
Do not attempt to readjust or repair. The MICRO-JET unit is not user serviceable.
Do not use continuously for more than five (5) minutes.
Caution: The torch flame is almost invisible in daylight, or in strong light.