Industrial Torque Screwdriver (w/Quick Release Bit Holder)
Model
KA-4164HD / KA-4166HD
Specification:
Tolerance of torque ±6%.
6.3mm (1/4") Hex drive for bit.
Bit holder with locking sleeve and quick-release device.
A spring-loaded sleeve locks the bit securely in the place.
Simply push the quick-release shank to change the bit.
Slipping clutch mechanism of the product brings the benefit of overload protection.
Torque setting by twisting the golden adjustment knob.
Easy-to-read laser scale.
Applied to both clockwise and counterclockwise.
Quality meets DIN ISO 6789 & ASME B107.300-2010.
Head: 6.3mm (1/4") Hex drive for bit, Square drive for socket.
Reliable mechanism: Press the locking knob when adjusting the torque, release and automatic lock at desire torque. The slipping clutch mechanism to prevent the over tightening.
Scales: Easy read laser scales is flexible for multi units and double scales for different market need.
NBR handle: Ergonomic shape with non-slip and comfortable features.
End cap: Standard or customized poly design cap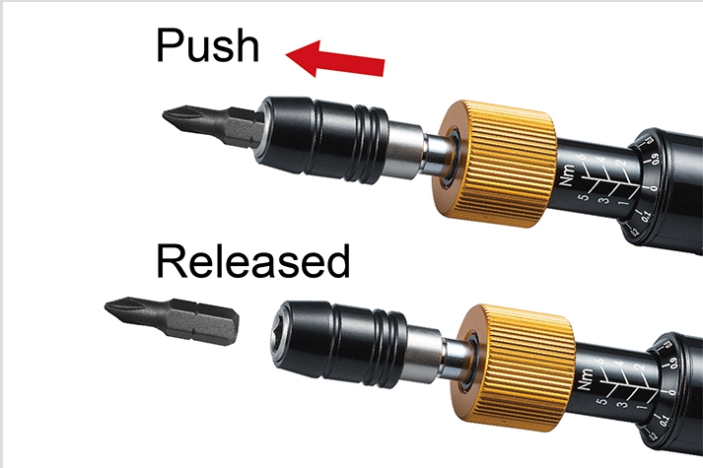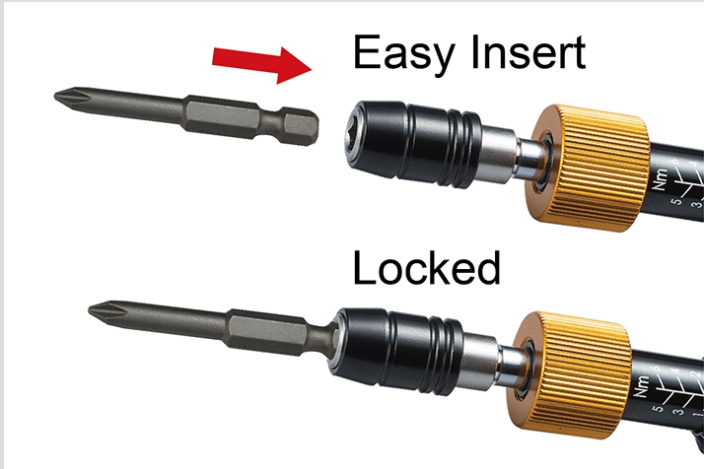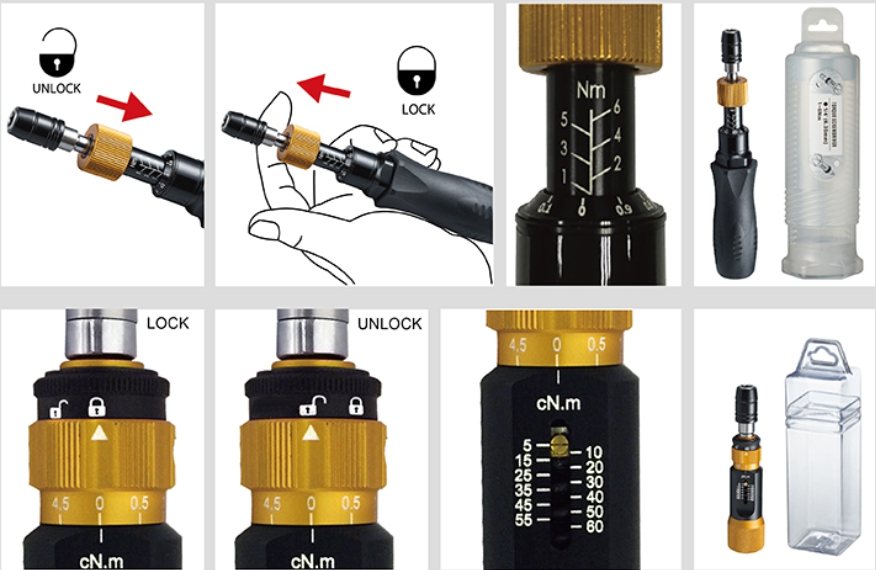 ITEM NO.
Hex 6.3mm
Nm(cNm)
Graduation
L(mm)
g
Case/CTN
KA-4164HD-01
10-120
1
190
247
24
KA-4164HD-01N
30-120
1
190
247
24
ITEM NO.
Hex 6.3mm
In-lb
Graduation
L(mm)
g
Case/CTN
KA-4164HD-13
0.5-4
0.05
190
247
24
KA-4164HD-14
2-12
0.1
190
247
24
KA-4164HD-11
3-15
0.1
190
247
24
KA-4166HD-22
5-25
0.5
205
350
24
KA-4166HD-23
10-50
1
205
350
24
KA-4166HD-24
10-90
2
205
350
24
ITEM NO.
Hex 6.3mm
Nm
Graduation
L(mm)
g
Case/CTN
KA-4164HD-02
0.1-1.2
0.01
190
247
24
KA-4164HD-17
0.4-2.6
0.02
190
247
24
KA-4166HD-04
1-3.5
0.05
205
350
24
KA-4166HD-02
1-6
0.1
205
350
24
KA-4166HD-02N
1.5-6.5
0.1
205
350
24
KA-4166HD-03
4-9
0.1
205
350
24
ITEM NO.
Hex 6.3mm
Nm/In-lb
Graduation
L(mm)
g
Case/CTN
KA-4164HD-04
0.1-1.2/1.33-10.18
0.01
190
247
24
KA-4166HD-14
1-3.5/11.03-28.77
0.05
205
350
24
KA-4166HD-12
1-6/13.28-48.68
0.1
205
350
24
KA-4166HD-13
4-9/39.83-75.23
0.1
205
350
24
KA-4166HD-15
5-10/48.68-84.08
0.1
205
350
24
| ITEM NO. | Hex 6.3mm | In-lb/Nm | Graduation | L(mm) | g | Case/CTN |
| --- | --- | --- | --- | --- | --- | --- |
| KA-4164HD-12 | | 3-15/0.39-1.64 | 0.1 | 190 | 247 | 24 |