Wheel Lug Socket for Mercedes Benz
Description

Socket specially designed for removing wheel nut on Mercedes-Benz S-Series vehicles.
No damage on wheel nut protection jacket
M14 x P1.5 wheel hanger makes wheel services fast and energy-saving.
Instruction:
wheel lug socket
Install the socket onto the wheel nut for removal / installation.

Note: Specially designed socket can work fast and without damaging the wheel nut protection jacket.
wheel hanger
Wheel can balance itself without using hands.
Simply screw the wheel hanger on the wheel hub, and then the wheel can be installed fast and easily.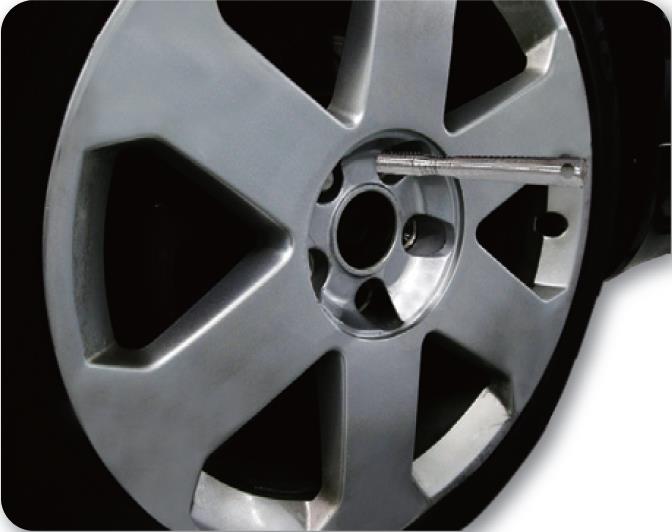 Application- Mercedes BENZ wheel nut socket
| BRAND | MODEL | YEAR | BRAND | MODEL | YEAR | BRAND | MODEL | YEAR |
| --- | --- | --- | --- | --- | --- | --- | --- | --- |
| Maybach | 57 | 2006-2008 | Mercedes-Benz | GLK-Class 280 | 2008-2009 | Mercedes-Benz | ML 63 AMG | 2006- |
| Maybach | 62 | 2006-2008 | Mercedes-Benz | GLK-Class 300 | 2009-2011 | Mercedes-Benz | S250 | 2011- |
| Mercedes-Benz | CL 63 AMG | 2006-2011 | Mercedes-Benz | GLK-Class 320 CDI | 2008- | Mercedes-Benz | S280 | 2006- |
| Mercedes-Benz | CL 65 AMG | 2006-2011 | Mercedes-Benz | GLK-Class 350 | 2008- | Mercedes-Benz | S320 | 2005- |
| Mercedes-Benz | CL500 | 2006- | Mercedes-Benz | ML 250 | 2011- | Mercedes-Benz | S350 | 2005- |
| Mercedes-Benz | CL550 | 2007-2011 | Mercedes-Benz | ML 280 | 2005-2009 | Mercedes-Benz | S400 | 2009-2011 |
| Mercedes-Benz | CL600 | 2006- | Mercedes-Benz | ML 300 CDI | 2009- | Mercedes-Benz | S420 | 2006- |
| Mercedes-Benz | GL 350 | 2012- | Mercedes-Benz | ML 320 | 2005-2009 | Mercedes-Benz | S500 | 2005- |
| Mercedes-Benz | GL 500 | 2012- | Mercedes-Benz | ML 350 | 2005- | Mercedes-Benz | S550 | 2007-2011 |
| Mercedes-Benz | GL 63 AMG | 2012- | Mercedes-Benz | ML 350 Blue TEC | 2011- | Mercedes-Benz | S600 | 2005- |
| Mercedes-Benz | GLK-Class 200 CDI | 2010- | Mercedes-Benz | ML 420 CDI | 2006-2009 | Mercedes-Benz | S63 AMG | 2006- |
| Mercedes-Benz | GLK-Class 220 CDI | 2008- | Mercedes-Benz | ML 450 CDI | 2009- | Mercedes-Benz | S65 AMG | 2005- |
| Mercedes-Benz | GLK-Class 250 CDI | 2009- | Mercedes-Benz | ML 500 | 2005- | | | |